Disorientation // Discography // Raygun EP (No Label Release)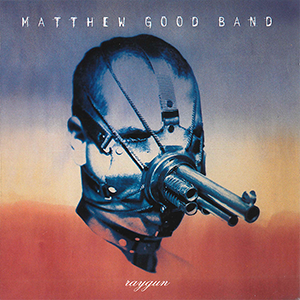 Release Info
Released: 1996
Artwork

[Click To Enlarge]
| | | | | | |
| --- | --- | --- | --- | --- | --- |
| | | | | | |
| | Front Cover | Booklet Front Left | Booklet Front Right | Back | |
| | | | | | |
| | CD | Booklet Back Left | Booklet Back Middle | Booklet Back Right | |
Liner Notes
Produced and Engineered by Dale Penner for Paradise Alley Productions. Mixed by Clif Norrell at Ocean Way Recording, Los Angeles, Ca. Except * Produced and Engineered by John Shepp and remixed by Clif Norrell

Recorded at Greenhouse Studios and Utopia Parkway Studios, Vancouver, BC
Mastered by Stephen Marcussen at Percision Mastering, Los Angeles, Ca
A&R: Micheal Gallelli • Matthew Good uses Fender Guitars and Amps.

All Songs Written by Matthew Good except †  by Matthew Good and Dave Genn and * Matthew Good, Geoff Lloyd, Ian Browne • All Songs published by © 1996 Dunharrow Music/ Gennsongs/ EMI April Music (Canada) LTD. (SOCAN) Except * & †† © 1995 Dunharrow Music/ Gennsongs/ EMI April Music (Canada) LTD. (SOCAN) All songs administered in the USA by EMI April Music Inc. (ASCAP)

MGB is • Geoff Lloyd • Ian Browne • Dave Genn • Matt Good

Management: Teamworks Prod. & Management, Suite 201, 310 Water Street, Vancouver, BC, V6B 1B6
Manager: Frank Weipert • ph: 604.683.6535 fx: 604.688.7155 • courage@axionet.com

Cover Art: Amy Guip • Photography: Andrea Marouk • Design: Jennifer Koll.

Thanks Be Unto: Fans, Frank, Dale, Micheal G., Ron G., Bobby G., Michael and Barbara, Jonathan, Margi, Jen, Mel, Pamela from Space Mountain, Our families and female counterparts, Kiley, Megan, Dave R., Ruben Kung Fu, Jr, Sonny Bono, John S., Bob M., Rob R., And the C Fox Army, Teamworks, Courage West and Everyone at Private.