Disorientation // The Trouble Bunch // Other Trivia Items
Flashdance II Internet Release Version
- At the end you can hear some chanting. That chanting is the team chant of Arsenal, Matt's favourite football (soccer) team

Q: Why did MGB chant 595?
A: Matt Said: "Cuz it's the Playboy Channel."

- In the YTV show Radioactive, there was a promo MGB poster in the background of one of the main sets.
It featured a picture of the band and a listing of the CDs across the bottom.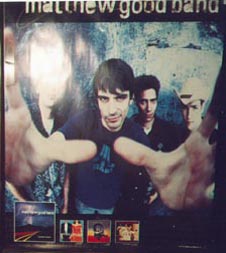 - The MGB F.C. logo, which is gold and navy blue shield, was patterned after the logo of the Arsenal (Matt's favourite football [soccer to North American's] team). MGB F.C. has the British Columbian provincial flower as the white flower represented on it.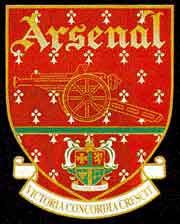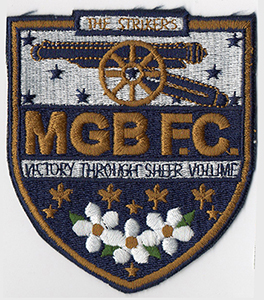 - The round logo has 1971 as the year it was 'established'. It's believed that since '71 was the year Matt was born, that was the reason why that year in particular was chosen.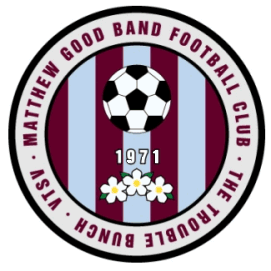 - The main reason Matt wore the monkey mask is because people wear beginning to think the band was all about Matt Good. There is one word after his name "Band" and they deserve recognition also. And the funny thing about Matt wearing the monkey mask is it got him even more attention, sort of backfired on him.

- For a while, when playing "Load Me Up" at live shows, the band would like to cut to the opening lines of "Rock You Like A Hurricane" by the Scorpions, with Matt singing a couple of lines. And after a bit instead of Matt singing, he would burn Pokemon, or other stuffed animals.

- One of the many amusing things Matt liked/likes to do is wear custom made t-shirts at concerts. Here are some of them. If you have more please donate it/them. Thanx

- Clapper the World
- Everything I Say Is A Lie
- Porno Safari
- Pissing Off the Planet, One Person at a Time
- Get Me Drunk and Fuck Me
- Here Comes Trouble
- I don't know about you but I could use me some cheap drugs and a couple of dirty hookers right about now. Know what I mean? Why don't you do some thing productive and kill yourself because standing here next to you is beginning to make me look like an idiot. And trust me, I'm capable of looking like an idiot without your assistance. You know it's not that I hate just you and you alone. I happen to hate most people, to be honest. You're just the closest one to me right now is all.
- Cofuckingquitlam
- I Will Destroy, You Will Obey
- Alien Sex Experiment Survivor
- One Down, Four To Go (picture of the Spice Girls with Geri Halliwell crossed out)
- A picture of his driver's license, blown up
- A red shirt with a picture of a pitchfork
- I Hear Matt Good's A Real Asshole

Bird references on the albums
Last Of The Ghetto Astronauts
- She's Got A New Disguise - "..little bird..."
Underdogs
- Everything Is Automatic - "...you decompose and wake up and those birds are singing..."
- Rico - "He's going to buy a parrot, that speaks her language..."
Beautiful Midnight
- Let's Get It On - "...down came your blackbird to suffer in my arms"
Audio Of Being
- Under The Influence - "I dreamed I was a pigeon..."

Book References
Last Of The Ghetto Astronauts
- Native Son is a book that Matt had mentioned once in one of his manifestos.
- Haven't Slept In Years a song about the Elephant Man
Beautiful Midnight
- Failing The Rorschach Test's Alice (From "Alice In Wonderland")

Family Member References
Last of The Ghetto Astronauts
- Omissions Of The Omen - "...sail me to a place where I can find my brother..."
Raygun EP
- Generation X-Wing - "...I used to dream about your sister..."
Underdogs
- Look Happy, It's The End Of The World - "...you can hear me, box my ears daddy..."
Beautiful Midnight
- Failing The Rorschach Test - "...Mother told me to be something..."
- Jenni's Song - "Jenni killed her dad..."
Loser Anthems
- Flashdance II - "...But her mother calls her Judy..."
Audio Of Being
- Man Of Action - "...'cause that's what the old man should've been..."
- Carmelina - "...my filthy mouth, well it makes my mom proud..."
- Tripoli - "...Better to squeal for daddy..."
- Advertising On Police Cars - "... Are the kids still poison?..."
- I, The Throw Away - "...Your baby's going to die ma..."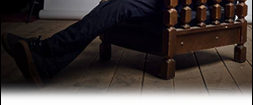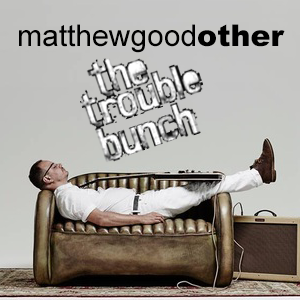 Trouble Bunch (aka Trivia)